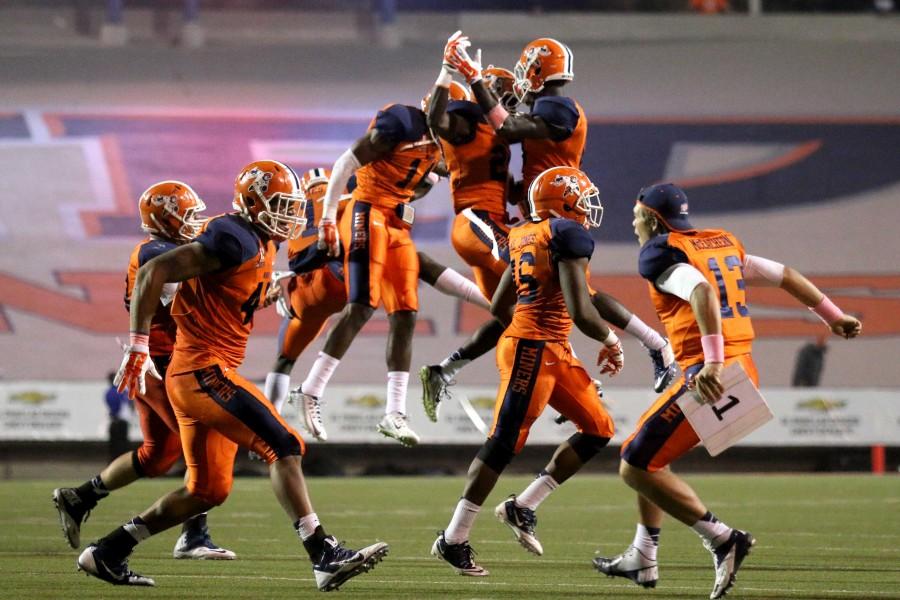 Michaela Roman
The UTEP football team came away with their most impressive win in the Sean Kugler era on Oct. 25, as they defeated the UTSA Roadrunners 34-0. As impressive as the offense was, the Miner defense was the story of the game.
In Sean Kugler's first 18 games as the Miners' head coach, UTEP has never shutout an opponent. The last time the Miners shutout an opponent was 10 years ago against New Mexico State, 45-0. As impressive as the Miners showing was in San Antonio, the result comes as a real surprise.
Last year, the Miners lost in their first-ever meeting with UTSA, 32-13, at the Sun Bowl. Prior to the shutout win, the Miner defense was allowing 37.3 points per game, and in the last three games, the Miners gave up a staggering 148 points.
The vast contrast in the Miner defense through the first six games and their win against UTSA cannot be understated. The Miners defense only allowed 70 total yards (third fewest in program history) and a laughable two first downs (least amount in program history).
"It was really an unbelievable performance," said head coach Sean Kugler. "I have never seen a game when there is only two first downs. I hope we see more, that would be awesome, but I don't think you can bank on that week in, week out."
The showing against UTSA is statistically one of the greatest performances in program history, and is the first road shutout since 1988. Kugler, who has 24 years of coaching experience, calls it one of the best performances he has ever seen, if not ever.
"I've been around a lot of good defenses and a lot of good defensive performances," Kugler said. "That may be the best performance I have ever been witness to. The team just flied around with energy and played the game the way it's supposed to be played."
The shutout is what Kugler and his coaching staff are hoping to see on a more consistent basis. Last fall, when defensive coordinator Scott Stoker filled the last-minute coaching vacancy, the Miners had very little understanding of the defense.
Now Kugler can say that is not the case. The new group on defense has bought into the system–no questions asked–which Kugler believes is a sign of maturity.
"I think they have matured," Kugler said. "They've gone through ups and downs. I'm proud to say that they came together as a team and decided to stop the bleeding."
Now that the defense has seemed to find an identity and the overall team play has improved, the Miners have a chance to contend for something more than a last-place finish. Standing at 4-3, the Miners are two wins away from being bowl eligible with five games left in the regular season. Finding consistency is key toward the Miners' possible future success.
"We're always searching for consistency," Kugler said. "We have a model of what we want and goals set for what we want to achieve. The key to a good team is stacking wins, we've stacked two and the goal is to stack a third win, and just take it one week at a time."
Javier Cortez may be reached at [email protected]