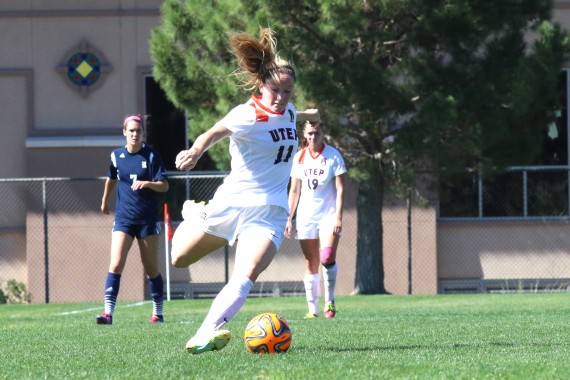 Michaela Roman
For a second game in a row there was overtime at Univeristy Field as the UTEP Women's Soccer team hosted the Rice University Owls. Unlike Friday though, it was the Miners celebrating after goal.
North Texas came in on Friday leading the conference, but in Rice, UTEP probably faced the biggest challenge of the season. The Owls came into the game with an undefeated conference record and just a single loss for the entire season. Riding a streak of nine games without a loss, outscoring their opponents by a combined 19-2, Rice was receiving votes to be placed among the top 25 teams in the nation.
The Miners were up for the challenge and relied on their outstanding defense to bounce back from the heart breaking loss on Friday in dramatic fashion.
"Our chemistry in the back is really good, we've taken it to a whole new level," said senior defender Tayler O' Hayre. "Our whole team defense has been great."
In a highly contested game, that saw neither team give an inch, the chances on goal were scarce. The Miners were credited with eight shots, but only two of those were on goal. The Rice recorded 15 shots, with 5 forcing Miner goalkeeper Sarah Dilling into action.
Even though the shots totals appear to paint an offensive filled contest, the true dangerous opportunities on either goal were few and far in between.  The defensive discipline of the Owls, who had recorded a shutout in three of their last four games, and the discipline of the Miners resulted on most of the play being centered in the middle third of the field.
The scrappy, hard-fought game was destined to go past the 90 minutes of regulation, but just five minutes into the first extra period the Miners found what had been eluding them for more than 270 minutes.
O' Hayre played a free kick from around midfield into the opposing box.  Like she does multiple times throughout a game, sophomore Aleah Davis won beat her marker to flick a ball into freshman Jeanna Mullen, who did not miss.  The ball flew off Mullen's head, past Rice goalkeeper Amy Czyz and into the net for the freshman's first career goal.
With the win, the Miners improve to 8-5-1 and get back to an even 2-2 in conference. With the shutout, Dilling becomes the all-time leader in shutouts in the program's history.
The Miners will now go on the road to face Western Kentucky and Marshall, on Friday and Sunday respectively, with the belief that they are as good as anybody in Conference-USA.
"This shows that if we play our best soccer that we can compete to win this league," said Miner's head coach Kevin Cross.
Luis Gonzalez may be reached at [email protected]