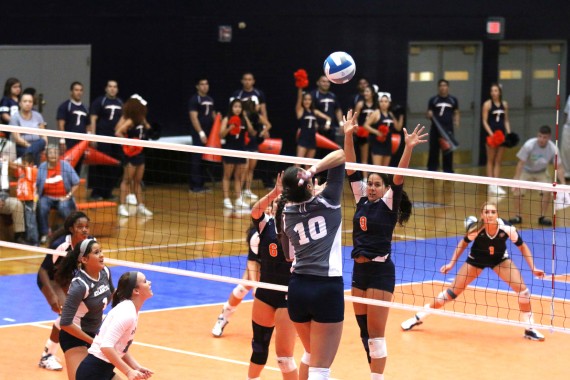 Michaela Roman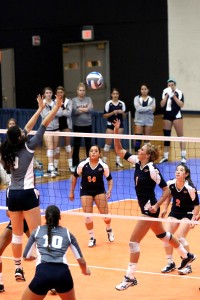 The UTEP volleyball team concluded there three game home stand with a loss to the Florida Atlantic Owls 3-0 (11-25), (12-25), (28-30) at Memorial Gym.
The Miners came out sluggish, falling behind early and losing the set by a 14-point margin. In the second set not much changed, very little intensity and energy expedited the process of the Miners going into an early hole.
The FAU middle blockers and outside hitters seemed unstoppable in the first two sets, finishing points with ease and stopping every Miner attack without breaking a sweat. FAU junior middle blockers Brittney Brown and Katarina Stepanovic were the driving force of the Owls dominant attack. Both Owls finished the match with an attack percentage over .500 percent.
As dominant as the Owls were in the match, the biggest contributor to their success and the Miners downfall was the absence of senior outside hitter Jacqueline Cason. According to UTEP athletics, Cason did not play todays game due to a concussion suffered in their Saturday practice.
The absence of Cason showed the Miners lack of depth but more importantly their lack of intensity.
"Depth wise we call always use more hitters," said junior outside hitter Talia Jones. "But Intensity wise she's definitely one of those people that brings a lot of intensity to the court. Unfortunately we didn't have her today."
The Miners came out of the 10-minute intermission and fell right into another whole going down four points to start the set. With a 16-10 lead, FAU, was on their way to another uncontested win.
Somehow the Miners turned it around and stormed back into the match with a 14-6 run to take a two-point lead late in the set. The Miners had their first and only set point 24-23 of the match, but could not convert.
The latter stages of the third set would become a back and forth affair between both teams. The Miners saved four match points before falling 30-28 in their longest set of the season.
The Miners now fall to 2-12 on the season and 0-3 in conference play. Not only are the Miners looking for their first conference win, they are looking for their first home win of the season as they are 0-3 at home this season.
The Miners next home game will take place in mid-October against Rice. As of now though UTEP will look forward to a four game road trip, starting with Rice on Oct. 5.
Javier Cortez may be reached at [email protected]