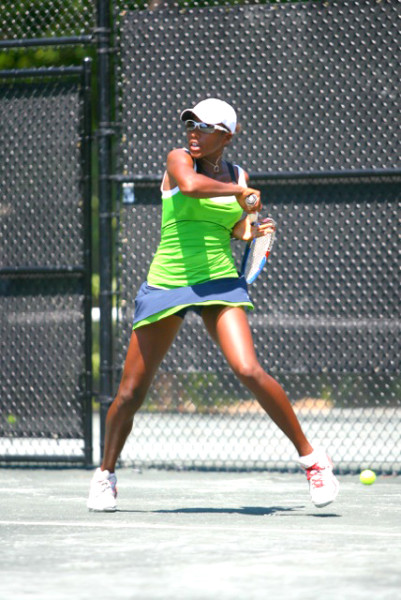 photo courtesy utep athletics
Coming into the 2014 spring season, head coach Myriam Sopel had big shoes to fill after popular head coach Mark Roberts left for an assistant coaching job at Southern Methodist University. Once again, Sopel has another tough task at hand—replacing three invaluable seniors, while finding a way to improve last year's results.
The signing of four-star recruit Jeannez Daniel in mid May, it seems that Sopel is off to a good start. Daniel is a native of Port Charlotte, Florida, and graduated from Florida Virtual School in May.
Daniel is the first major recruit UTEP tennis has had in years and Sopel is pleased to have a player of her stature. 
"Jeannez is a great girl. She has a big heart, she fights very hard and she is very talented," Sopel said. "She is obviously a very good tennis player, but she is good in the classroom—she is very smart. Everything seems to fit really well and she has fallen in love with UTEP."
Sopel credits the recruiting success to her coaching connections and her time playing international tennis as a French national.
"I have many connections from my time internationally and coaching. I was informed about her and I started talking with her, she liked my coaching style and what the program had to offer," Sopel said.
Daniel will have to fill the void of All-Conference performer Rebecca Calvillo. The Durango, Mexico, native came off her best season at UTEP and etched her name into the UTEP record books, playing at the number one spot. 
To go along with being a highly touted recruit, Daniel is the only player from the United States on the team. All of her new teammates are either from Latin American countries or Europe. The transition should not be a problem for Daniel considering the fact that she has played all over the world.
"Jeannez (Daniel) is American, but she is very internationalized," Sopel said. "I think she will fit in well with the girls and she is fine with being the only American. Her private coach is actually from Belgium and she has been traveling all over the world for tournaments."
The strength of the women's team last year was their reliability at the top two spots. Calvillo and junior Davina Meza were the only players on the team who finished with winning records in singles and doubles. At the beginning of August, Daniel and Meza will most likely compete for the top two spots.
Along with the departure of Calvillo, the Miners also lost Marie LeBlond and Gabi Vazquez. The two seniors rounded out the number three and four spots for the Miners.
Sopel's newest recruit, who signed late in May, is Valeriia Yanovska. The Ukrainian originally played at Taurida University in Simferopol, Ukraine. Yanovska will still have four years of eligibility because she is transferring from a university outside of the U.S.
Like Daniel, Sopel is delighted to have another solid player with plenty of international experience.
"Valeriia (Yanovska) is very talented and she is a smart girl," Sopel said. "It is going to be great to have her on the team. She has a year of experience at Taurida University, so it's going to be a good transition for her."
With two recruits that have plenty of talent and experience, Sopel is not stopping there. Replacing half the team is an adjustment for Sopel; in her young coaching career this is her biggest recruiting class.
"Half of the team is new," Sopel said. "It is a challenge to bring four new players because they all have to adapt at first, so it is a big challenge for the team. But it is nice to bring that new drive and motivation."
After starting last season 1-5, the Miners gradually found success.  More than three months until the Miners start their season, it seems that they are on the right path to success. 
Javier Cortez may be reached at [email protected]