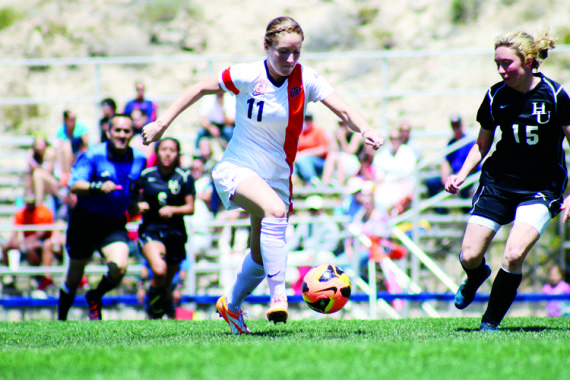 Michaela Roman
The UTEP soccer team concluded their spring season in a dominant fashion with four wins and a draw in five games.
UTEP began with a 1-0 victory over Arizona State on March 29, and one week later they topped the Arizona Wildcats, 3-1, and had a draw against the New Mexico Lobos, 1-1, in their only road game.
Finally the Miners ended with a 5-0 rout of Eastern New Mexico and a 4-1 win over New Mexico Highlands on April 12 and 13, respectively.
"This is a very positive performance from the team," said head coach Kevin Cross. "I think we are all impressed at where the team is at, especially since we lost five phenomenal seniors, and for the team to be playing this good, it's a great sign."
Players who saw a limited amount of playing time last season showed that they're  more than capable of filling the voids. Freshmen Brianna Barreiro, Hannah Nicholson, Brianna Thomas, Nicole Lindsay and Alexis Roberts were among the young Miners who impressed Cross with their performances.
"I think we played really well this spring season," Barreiro said. "We worked really hard throughout the spring and I think we had a lot of players that stepped out despite being put on positions they hadn't played in before."
Cross said that he was pleased with the team just allowing three goals in five games and that they scored 14.
"In the summer we need to keep working on our fitness and push each other to the next level in practice and in every game," Barreiro said. "When we come together as a team, the team gets much better."
Despite the good performance, Cross recognizes that their fall season is the one that matters.
"I told them that the spring means nothing and that they will need to work hard in the summer," Cross said. "This is by far the best spring we ever had and I'm proud of the girls—they are playing really well together.
The Miners still have the alumni game ahead of them on April 26 to officially close their spring season.
In the fall, UTEP will play 12 home games and will seek to improve on the third-place finish they had during the 2013 regular season.
Edwin Delgado may be reached at [email protected]