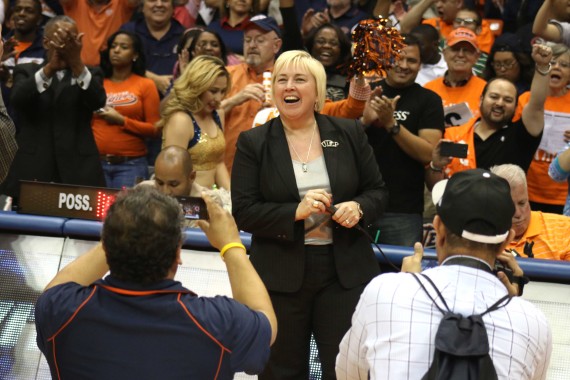 Michaela Roman
As of 10:10 a.m., the UTEP women's basketball team's WNIT Final Four game against South Dakota State in the Don Haskins Center is sold out.
It is the first sellout of a UTEP women's basketball game and the first sellout of a Miner basketball game since the 2010-11 men's season opener against Pacific and the first ever in women's basketball team history. 
Tip-off is at 7:00 p.m.
"I'm excited about tonight's game and I want to say thank you El Paso!" UTEP head coach Keitha Adams said. "We will be playing a very good South Dakota State squad that has beaten three Big 10 teams on the year. They can shoot it and we will need to be ready to go. I'm challenging our fans to make a difference tonight. Let's play ball."
The semifinal match-up will mark the third straight contest that the Miners have set the school's attendance record. The Miners attracted 8,234 fans in the WNIT Sweet 16 win vs. Colorado (68-60, 3/28/14) before drawing 10,227 in the Elite 8 triumph against Washington (70-63, 3/31/14).
The prior school attendance standard was 7,255 against SMU on Feb. 28, 2008.
Information Provided by UTEP Athletics.