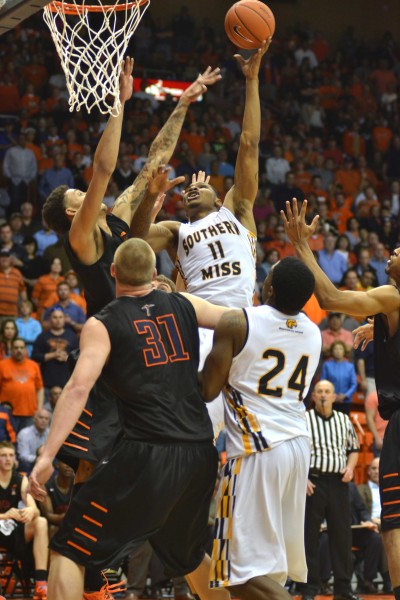 Michaela Roman
The Southern Miss Golden Eagles defeated the UTEP Miners 64-56 to end their hopes for a conference title and a bid to the NCAA Tournament. This is the fourth consecutive win of the Golden Eagles over the Miners.
It was one of UTEP worst rebounding and shooting games of the season. The Miners shot a dismal three for 22 from the three-point line and were outrebounded by Southern Miss 45-28. The Miners gave up a season high 20 offensive rebounds and paid for it with 14 second chance points by the Golden Eagles.
Junior guard Julian Washburn led the Miners with 16 points, five rebounds and no turnovers. Junior guard C.J. Cooper had his worst shooting game of the season going two for 14 (Including 1 for 11 for three) and 0 of 2 from the free throw line.
The Miners now fall to 23-10, with their NCAA tournament hopes squandered and their NIT possibilities are very slim. The Miners hopes for an extended post season will have to wait until selection Sunday.
For the Golden Eagles forward Aaron Brown was the high point man with 18 points and forward Michael Craig pitched in with a double-double and numerous amounts of dunks.
The Golden Eagles are now 27-5 this season and will face the winner of the Charlotte vs. Louisiana Tech game tomorrow at the Don Haskins center. The Golden Eagles will be playing for a spot in the Conference USA championship game and possible NCAA tournament bid.
Javier Cortez may be reached at [email protected]