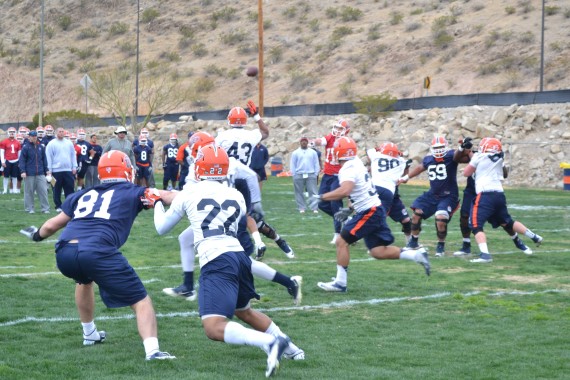 Edwin Delgado
After a ghastly first season under head coach Sean Kugler. The Miners are back to work. The football team conducted their first practice on March 3, and already in day one defensive coordinator Scott Stoker said he sees a vast improvement.
"It's night and day," Stoker said. "This practice, more than any other practice last year, was further along than what we have been. Obviously we should be, the guys understand the terminology. We still got a long way to go, but we are further along from where we were."
The Miners are coming off a 2-10 season, due to lack of experience and an assortment of injuries. Starting quarterback Jameill Showers missed the last five games of the season with a shoulder injury and his return has stirred much of the talk.
"I felt a little rusty today and you can tell," Showers said. "Just trying to get those first day jitters out. I felt comfortable, the protection was great. It is nice being the starter, but it also adds a little bit of pressure because I got to be on top of my game and I can't afford to have any more days like I had today."
Also in the news is the departure of senior wide receiver Jordan Leslie. Leslie led the Miners in receptions and receiving yards for the past two seasons. In 2013, Leslie was named to the Biletnikoff Award watch list, which is a reward given to the nation's best receiver every year.
Along with Leslie, junior quarterback Blaire Sullivan transferred to Texas State, putting the battle for the second-string quarterback down to three. Sophomores Mack Leftwich and Garrett Simpson, along with redshirt freshman Ryan Metz, will compete for the job.
"Leftwich and Garrett Simpson are going to battle for that second spot, and we also have Ryan Metz who we signed and redshirted last year and he did a nice job today," Kugler said. "It will be an open competition behind Jameill and I'm excited about the competition."
One thing that remains the same from last year is competition. Many roster spots are still undecided and Kugler looks forward to seeing his players compete for the spots.
"There is competition at every position," Kugler said. "I say there are a few that are locked up, but very few. Competition makes everybody better, so there is an open competition for a lot of spots and that's what makes spring exciting."
This year the Miners have a hefty schedule. The Miners first four games consist of longtime rivals and nationally ranked powerhouses. They will start the season in Albuquerque, N.M., against the Lobos as they look to avenge their overtime loss last year. Then offensive juggernaut Texas Tech comes to town, followed by New Mexico State in the Battle of I-10. Lastly, the Miners head to Manhattan, Kan., to play the Kansas State Wildcats.
Although the Miners might not come out victorious in their first four games, coach Kugler already sees a much improved team from last year.
"I think that we are miles ahead from where we were last year around this time," Kugler said. "We feel pretty capable with the guys that we have, so someone is going to have to step up."
Javier Cortez may be reached at [email protected]