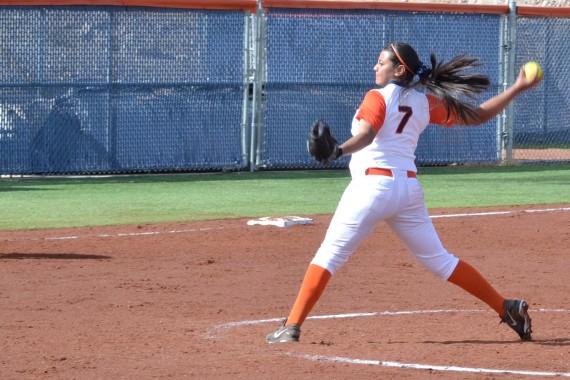 Michaela Roman
The UTEP softball team will have a challenging week, as they will take on nationally ranked Arizona and Washington, in addition to Pacific, San Jose State and Cal State Bakersfield.
After a rough 1-9 start to their season, UTEP claimed five-straight wins at the UTEP Invitational from Feb. 21-23 at the Helen of Troy Complex.
The Miners defeated the Incarnate Word Cardinals in three occasions (12-4, 6-5, 9-1) and the Houston Baptist Huskies twice (5-2, 10-5) to improve to a 6-9 record.
"It's nice to get some wins, the team has just kept on going and regained confidence in themselves," said head coach Tobin Echo-Hawk. "Now that they accomplished this, I'm sure that they will do whatever is necessary to keep winning."
The Miners will have to regroup and start thinking about their next opponent—the No. 14 team in the nation—the Arizona Wildcats, who they will face twice in Tucson, Ariz., on Feb. 25-26. The Wildcats are 13-1 so far this season.
"It's going to be a rough road trip, but we've played against some other strong teams already and we know we can hang on with them. If we do what we need to do, we have a chance," said freshman pitcher Taylor Grohmann. "(These wins) help our confidence a lot. We know what our team is about, we know what we are capable of."
After their double-header against Arizona, the Miners will travel to Stockton, Calif., to take part in the Libby Matson Tournament, which will take place from Feb. 28 to March 2.
UTEP will face the No. 2-ranked team in the country, the Washington Huskies, to start the tournament on Feb. 28, followed by a game against the San Jose State Spartans.
On March 1, UTEP will have another double-header as they take on the hosts of the tournament, the University of the Pacific Tigers and the Cal State Bakersfield Roadrunners, and will wrap up the competition with a second game against Washington.
Despite the tough task ahead, Echo-Hawk feels confident about what her team is doing and said that despite the early losses, the team has a batting percentage over .300.
"Our hitters have been doing a fantastic job and they have done it all year," Echo-Hawk said. "We have scored runs and gotten many hits. It was just a matter of our defense catching up and this weekend they did."
The Miners have faced two other top-25 teams this season. The Miners were shut down by No. 12 Nebraska, 7-0 and No. 10 Florida State, 8-0, and fared well against a Hawaii team that received votes in the top 25 poll.
Echo-Hawk said that facing some of the best teams in the country early on has helped them identify where improvements need to be made and how to keep themselves in games against strong competition.
"It will be hard and I just tell our kids that we got to go out there and compete regardless who it is," Echo-Hawk said. "These games will be a great challenge for us to get ready for conference because conference is what really matters. We are playing some really good teams and I want to see what we can do against them."
The Miners will return home to take on rivals New Mexico State on March 4, and will open their conference schedule with a three-game series against the Southern Mississippi Golden Eagles March 8-9.
Edwin Delgado may be reached at [email protected]