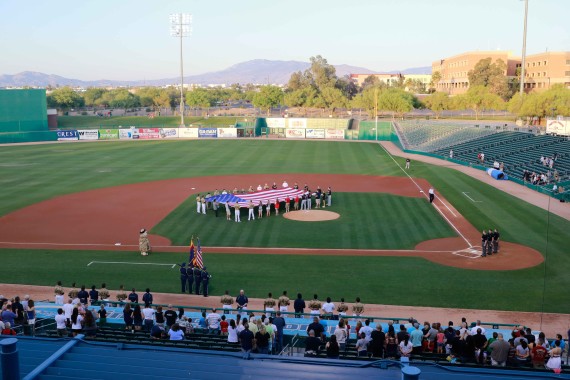 Aaron Montes
MountainStar Sports Group recently announced their decision to postpone the opening day of the new downtown ballpark from April 11 to April 28, a decision that was not very well received among El Pasoans and students at UTEP.
"I was really excited for the season to start and now we're going to have to wait another two weeks for it," said Tomas Lopez, junior business administration major. "I'm a little disappointed on the delay, but I'm hoping that there will not be any more surprises."
The opening home-series for the Chihuahuas will now be played at the Kino Sports Complex in Tucson, Ariz., and the new ballpark will be inaugurated on April 28 when the Chihuahuas host the Fresno Grizzlies.
According to the president of MountainStar Sports Group, Alan Ledford, the stadium will be completed by April 11, however some, "Public safety components, concession spaces and state-of-the-art amenities" may not be finalized by then.
"While there was a possibility that the home opener could be played on April 11, we want to ensure we can offer the quality ballpark experience that El Paso deserves," Ledford said in a statement.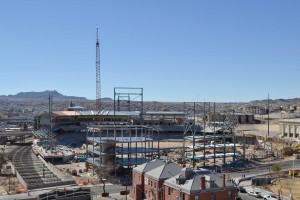 Fans who have already bought tickets for the opening series have the options of exchanging them, getting a refund or donating them to veterans.
The delay also caused some students to wonder if this was a good idea in the first place.
"This is exactly what I was afraid that could happen," said Aline Diaz, sophomore education major. "Bringing the baseball team was a mistake. Now I wonder what the next issue with the team is going to be."
Construction crews had a very narrow window of time to get the ballpark erected. On April 14, 2013,  city hall was demolished to make room for the ballpark and it took more than a month to clean up the site, leaving the construction crews about 10 months to get the stadium ready.
"We have one chance to do opening day right and we owe it to the community to make sure that (the) first impression of every detail in the ballpark is unforgettable," Ledford said. "This is as much about the whole ballpark experience as it is about playing baseball. April 28th will be worth the wait."
With the change in scheduling, the Chihuahuas will now have an eight-game home stand to inaugurate their new ballpark when they face the Fresno Grizzlies from April 28 toMay 1, followed by four games against the Sacramento River Cats from May 2-5.
"I don't think the delay will make the team lose support," Lopez said. "I'm sure most people in El Paso are as anxious as I am for the Chihuahuas' season to begin."
Edwin Delgado may be reached at [email protected]