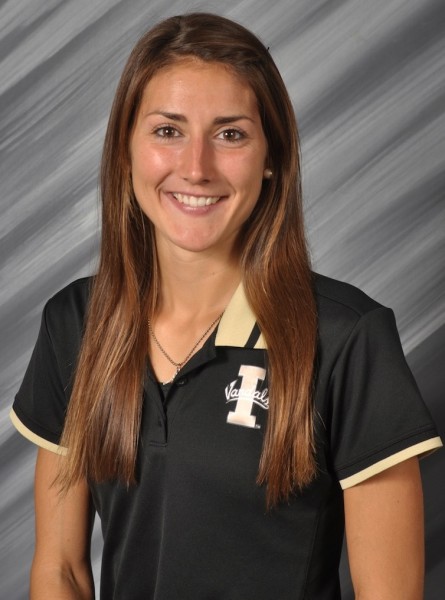 Photo Courtesy of UTEP Athletics
Athletic Director Bob Stull named Myriam Sopel as UTEP's women's tennis head coach on Wednesday.  Sopel succeeds Mark Roberts, who held the position from June 2012 to December 2013.
"We welcome Myriam (Sopel) to the UTEP family," Stull said.  "She has accumulated some diverse experience at a young age.  She played on a top-25 team at Indiana University and has already been a head coach at two Division I institutions, Wagner and Idaho.  Last year she faced a similar situation to what she is in now at UTEP, joining Idaho at the start of the spring semester. Despite her late start, the Vandals were highly competitive in the Western Athletic Conference.  We look forward to our tennis program continuing to grow under her leadership and ultimately contending for conference championships."
The native of Toulouse, France comes UTEP from the University of Idaho, as she will find herself in a familiar situation. She was hired as head coach at Idaho in December 2012 and immediately jumped into the spring season, where the Vandals recorded a 14-12 record and reached the semifinals of the Western Athletic Conference Tournament.  The Miners will begin the 2014 spring season on Jan. 31 against McNeese State in San Antonio.
"I am very excited to be a part of the Miner family. UTEP is a prestigious institution with an incredible support system. It is a wonderful opportunity for me to fully demonstrate my skills and acquire more experience for my career as a Division I head coach," Sopel said. "I am honored to be working under the leadership of Bob Stull and Dr. Diana Natalicio, who have been having a tremendous influence on the growth of UTEP."
"I have a solid group of talents and I connect very well with my players. There is no doubt in my mind that we will build a strong team, get better every day, and achievegreat results together. I am exciting to be competing in Conference USA. I look forward to working in partnership with [graduate assistant] Martina Trierweiler and starting the season in a couple of weeks." Sopel said. "I got a chance to meet the entire athletic staff and members of the community during my visit. Everybody was extremely welcoming and instantly made me feel at home. I look forward to moving to UTEP and becoming a part of the El Paso community, which is a great environment to evolve in."
Information provided by UTEP Athletics.