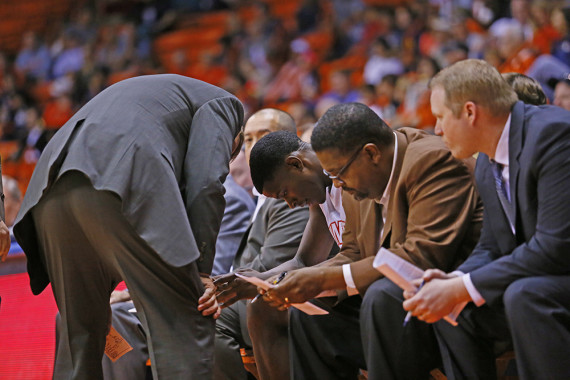 Aaron Montes / The Prospector
The UTEP men's basketball victory over West Alabama on Sunday afternoon was overshadowed by junior forward/guard Julian Washburn's unwillingness to go back into the game during the second half.
Mid-way through the second half after taking Washburn out, head coach Tim Floyd reprimanded him for his performance and minutes later when he called Washburn to get back into the game, he refused to do so.
Teammates senior guard Tyler Tafoya and senior center John Bohannon told Washburn that Floyd was calling him, but he ignored them and stood in his chair, Floyd leaned over to tell Washburn to get back in, but he refused in several occasions. Infuriated with his player, aggressively urged him to check-in, but it was apparent that Washburn didn't want to and Floyd had to call on junior guard C.J. Cooper instead.
After the game, Floyd talked about the incident and said that Washburn told him he had a stomachache.
"That was disappointing, he (Washburn) said his stomach was hurting or something was hurting. It was disappointing," Floyd said.
Despite Floyd's explanation, right after the game Washburn changed and left the dressing room as soon as he could to avoid Floyd and the media. Washburn was later spotted with Cooper walking toward Miner Village.
UTEP will host Colorado State on Tuesday evening.
Edwin Delgado may be reached at [email protected]