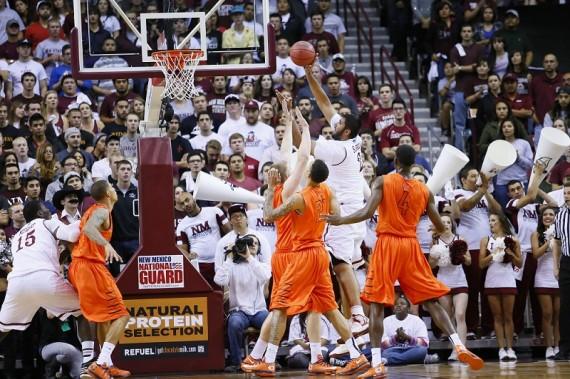 Aaron Montes
Junior guard Daniel Mullings led New Mexico State with 26 points as the Aggies stormed past UTEP in the second half to defeat their rivals, 86-73, Friday at the Pan American Center in Las Cruces N.M.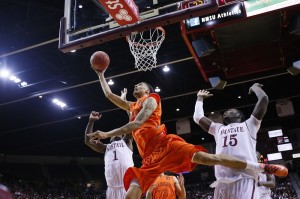 "To have as good as a game as we had tonight it's great, but against UTEP makes it a lot better because they are our rivals, we hate them and they hate us," Mullings said. "I think the crowd was fantastic and gave us a lot of energy for the game."
The Aggies out-rebounded, out-hustled and out-shot the Miners throughout the game, NMSU shot 57 percent from the field, 72 percent in the second half against UTEP's 46 percent from the field.
"What I take from this game is that we were pitiful defensively," said UTEP head coach Tim Floyd. "I never had a team that left the basket unguarded for that long in a game."
For UTEP, junior guard McKenzie Moore, junior forward Julian Washburn and freshman forward Vince Hunter led the team in scoring with  12, 15 and 16 points respectively.
Early in the first half, freshman center Matt Willms, Moore and senior center John Bohannon got two quick fouls in the opening five minutes of the game which limited their playing time.
The game slipped away from the Miners in the second half. The Aggies went on a 15-3 run with less than 12 minutes to play to increase their lead to double digits and had no problems preserving their lead in the final minutes of the game.
With the new rules in college basketball, 81 free throws were taken in the game and despite expressing his dislike with the new rules, Floyd made it clear that it had nothing to do with the end result.
"I want to make it perfectly clear that the officiating had nothing to do with us getting whacked," Floyd said. "We were pathetic on every face of the game."
NMSU's center Sim Bhullar, who stands at 7 feet, 5 inches, also had a stellar performance for the Aggies as he contributed with 11 points, three rebounds on offense, as well as three rebounds and two blocks on defense to help NMSU shut down the Miners.
"(Bhullar) is a presence and even if he doesn't score a lot of points, he affects the game and he is a great rebounder," said NMSU head coach Marvin Menzies.
The Miners, now 1-1, will head home to host West Alabama on Sunday and the Colorado State Rams on Nov. 19. Then a rematch against New Mexico State at the Don Haskins Center on Nov. 23.
Edwin Delgado may be reached at [email protected]