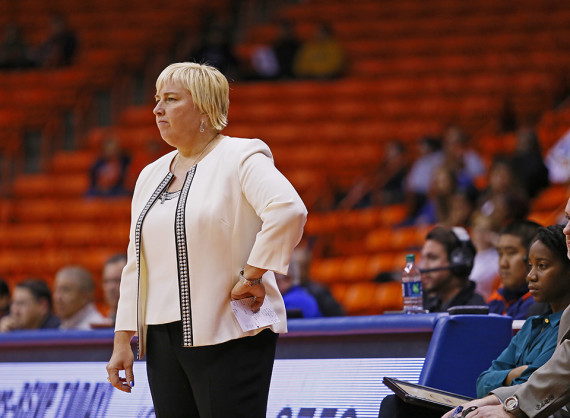 Two high school seniors have signed national letters of intent to attend school and compete with the UTEP women's basketball team for the 2014-15 season, head coach Keitha Adams revealed Thursday.
A brief profile, along with a quote from Adams and a prominent coach in the student-athlete's life on each signee, is below.
The six-foot-one wing-post helped guide Mayfield High School (Las Cruces, N.M.) to a 28-3 record her junior season … put up 14 points, ripped down 10 boards and dished out three assists in the semifinals of the New Mexico state tournament, she went on to score 22 points and grabbed seven rebounds in the state championship game … was named player of the game in a 57-50 victory over Chapin High School (El Paso, Texas) after a 23-point performance, along with six rebounds, three assists and five steals (11/3/12) … notched 11 boards and six steals in a 50-31 win over Roswell High School (11/24/12) … Mayfield HS was named part of the MaxPreps 2013-14 New Mexico Girls' Basketball Preseason Fab 5 presented by the Army National Guard for McCants' senior season … she is serving as a captain for the squad … averaged 19.4 points per game & 9.2 rebounds per contest during her junior season … also led the team in blocks & steals … part of the 2011 State Championship team while helping the team advance to the quarterfinals in 2012 & earn runner-up status in 2013.
"She is an athletic forward who can rebound it well & run the floor. She can score around the basket. I had an opportunity to watch her play a lot this summer. We are excited about signing her. She is a good athlete, good forward and has good basketball IQ."
Coach Maya on McCants (Mayfield High School Head Coach)
"She is an exciting player. She is a great kid, who comes from a great family, and will help UTEP a lot. She can pretty much do everything on the court we need her to do. She can shoot the ball from the outside, and I think she will hopefully be an overall inside & outside player for UTEP. She is very athletic and is a hard worker so I think she'll help UTEP quite a bit."
Played her first three years of high school basketball with Bellaire HS (Houston, Texas), earning All-District 20-5A honors each season … was a second-team member as a freshman (2011) while securing first-team all-league status in both 2012 & 2013 … also selected to VYPE's All-Greater Houston Girls' Basketball Third Team in 2013 … transferred to Texas A&M Consolidated HS (South College Station, Texas) for her senior season… made the move because her father, Clarence McKinney, is the offensive coordinator for Texas A&M's football team … helped guide Bellaire to a 33-4 mark during the 2012-13 season … ranked as a three star player by Premiere Basketball Report … touted as a smart point guard who can score and assist and thrives in the role as a leader on the court … has been mentored by former NBA player & coach John Lucas since the sixth grade.
"She is a point guard, and we are excited about signing her. She is a very competitive young lady and is a very good defender. She has that mentality about wanting to stop people. She can score, hit that mid-range jumper. She has a very good basketball IQ and understands what it takes to win. She has a great work ethic and is very competitive."
Former NBA player & coach John Lucas on McKinney
"Lulu's been with me since the sixth grade. She has a chance to be very good. She can shoot the ball well & move it well. I'm really ecstatic for Coach Adams to work with Lulu. I believe she can help her with her game. UTEP is a great school for her basketball skill set."
Information provided by UTEP Athletics.