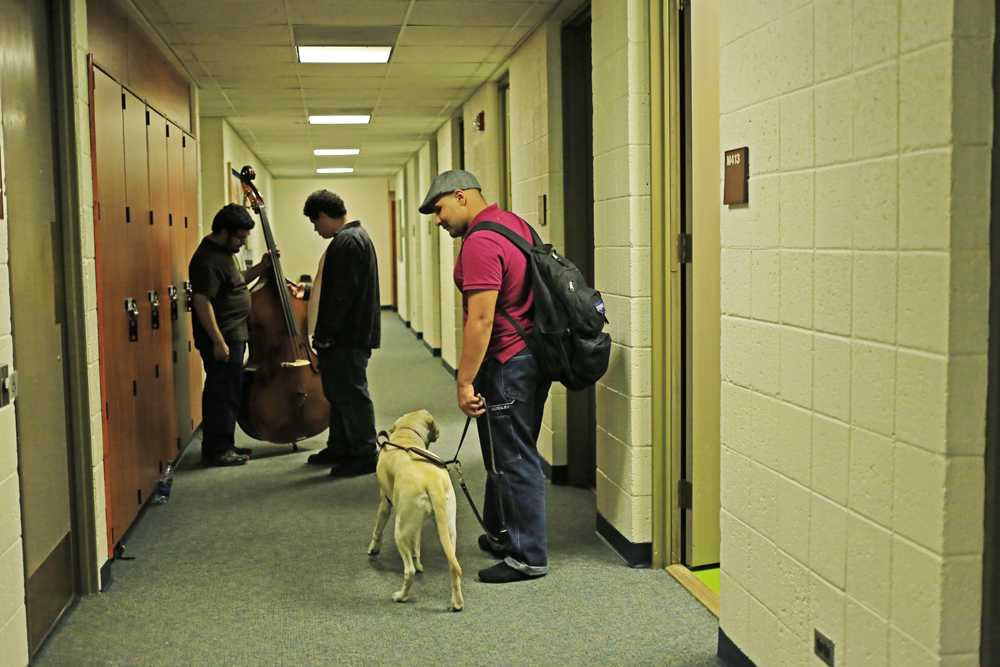 Aaron Montes/The Prospector
At the age of 15, Lawrence Brown, a sophomore music performance major, was at the Reno Jazz Festival. He saw a performance by Roy Haynes, an American jazz drummer who played with musicians such as Miles Davis, Sarah Vaughan and Charlie Parker.
From then on jazz always had a special place.
"The reason is that it allows the most room for expression. Improvisation is the language, you can be as expressive as you want to be," Brown, 20, said. "That doesn't mean you play as much as you want, it just means that you use your expression to the best of your abilities. That's really where great musicians can shine if they are given the opportunity."
An opportunity is what Brown desires the most at this point of his life. That will be a challenge. He was born with optic nerve hypoplasia — a condition where his optic nerve is a tenth of the size it should be. Though it's not physically visible in his eyes, the condition originates from the brain, therefore making him blind.
Playing music requires the ability to read music, but Brown has adapted to learning his own way.
"That's a very important thing about being a musician, you have to read music. Obviously he can't read, so what he does is he goes home, he takes the track and he listens to it," said Edgar Evitia, senior commercial music major. "I'm talking about four or five pages of music. He memorizes it. To memorize that much music and to play it well, it takes something else. There are very technical things that you have to be able to do. Not that many people can do that here in town."
Shaun Mahoney, a lecturer in the music department, has worked with Brown and describes him as one of the most talented drummers in town who he's worked with.
"As far as him being blind and a musician, that's pretty difficult because he can't read music," Mahoney said. "So he's extremely fast at memorizing music and adapting to his disability."
His character doesn't dwindle in a space of negativity. To be recognized as one of the best drummers in town is a reputation that comes through his commitment.
"My favorite gig is when I get to play with musicians who are better than me. That's my favorite type of gig in the world," Brown said. "When I get to hire guys who are better than me and then kind of get my a** whooped and learn things, you know what I'm saying?"
At UTEP, however, Brown has felt limited and said the university has been "not so accommodating." The main reason he said is because of brailmusic. He wants to learn how to read and write music just as other music majors. He does not want to depend on just his hearing.
"I've had a lot of opposition here. I do think I'll have to leave. I'd like to come back, but I do think I'll have to leave as soon as I am able to finish my degree somewhere else."
He'd like to attend school at Berklee College of Music, which he said is the best, but will cost him about $60,000 a year. The school has several professors who are blind and a drummer who is blind and deaf.
"For me, right now, that's not possible," Brown said. "My parents never saved for my college. I'm very lucky here in Texas that the state can pay for most everything I need."
Brown auditioned for North Texas this past semester but didn't make it in. He was competing for one of two positions available for transfer students.
Through all his adversity, Brown gets real inspiration from musicians such as Ray Charles and Stevie Wonder.
"(Ray Charles) and Stevie were able to get paid more than sighted musicians of their time," he said. "They were excellent businessmen, they had excellent people around them who would guide them and take care of them."
To get around town, Brown uses public transportation, usually the bus. But having to get to gigs is a challenge considering he has his drums and guide dog, Halo, trailing with him.
"It's a big production every time," Brown said well humoredly.
He enjoys getting around with Halo, a female yellow Labrador. He got her at the Guiding Eyes for the Blind dog school in New York.
"It makes getting around a lot easier. A dog is very organic, it's this whole bond between dog and person," Brown said. "If one of you is off then the whole thing is off. When one of you is on, man, you literally feel like you're flying to places.
"You can ask any guide dog user. If you went up to anyone with a guide dog and asked them, 'when you're using your guide dog, does it feel like you're flying?' They wouldn't think that's a weird question because that's what it feels like."
There are challenges awaiting Brown in the distance. He will have to hurdle through several more trials. Nevertheless, he will remain persistent.
"He picks it up real quick," Evitia said. "He may not be able to get it the first time because of his disability, but by the time the concert comes he's going to be right on."
Kristopher Rivera may be reached at [email protected]