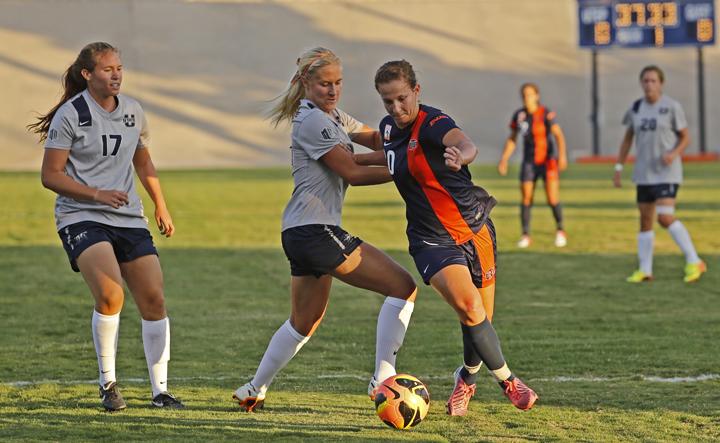 File Photo/The Prospector
The UTEP soccer team which is currently on a four-game winning streak will try to add to their streak in conference play. The Miners are set to start their 2013 campaign when they host the Rice Owls tonight at University Field .
For the first time in eight years the Miners were able to obtain four consecutive wins on the road by defeating Texas State, Houston Baptist, Southern Utah and Northern Arizona, improving their record to 7-2-1.
"Those four games were huge for us. It really helped our mentality and our confidence," said head coach Kevin Cross. "Being able to win four tough games in rough circumstances will surely help us be ready for our conference rivals."
Last season the Miners came to conference with a 7-2 record but struggled throughout the season and dropped their first four contests and eventually missed the Conference USA championships.
Rice was Conference USA co-champion in 2012, but has had issues in their non-conference matches and currently have a 2-3-2 record. But despite that record, Cross knows the teams' potential.
"They are a very good teams, they have two forwards that are very strong coming back from last year–Lauren Hughes and Holly Hargreaves, both are excellent," Cross said. "They have good players all over the field and are very disciplined, they also have on of the best center backs in the league in Hayley Williams."
On Sunday the Miners will take on the Southern Mississippi Golden Eagles, a team that UTEP defeated 3-1 last season, but according to Cross, this team is much better this time around.
"Its always important to have a strong start in conference and if we win these two games we'll be in good position to compete for conference," said sophomore forward Angela Cutaia. "We are putting emphasis on possession, finishing and working together as a unit– whether is on the attack or when we defend."
Senior forward Azia Nicholson leads the team with four goals this season, while senior forward Jade Babcock and Cutaia both have three goals and two assists.
Freshman players such as Aleah Davis, Brianna Barreiro and Nicole Lindsay have seen extended play and have contributed to the team's attack–Davis by scoring twice and Lindsay and Barreiro providing assists in key games.
"I'm really excited to start conference, especially since I'm a freshman. I know they are two good teams and I'm excited to get some playing time and hopefully we'll win both games," Lindsay said. "I think it is very crucial to start with two wins, we want to send a message to the other teams that we are here to win the conference."
Edwin Delgado may be reached at [email protected]